Previewing the Infinity releases for May 2022
Infinity "new" releases – May 2022
As ever with Corvus Belli's Infinity, a new month brings a new set of releases for the twin systems of N4 and Code One.
For those unfamiliar with Infinity, there are two versions, Code One is the light version, with simplified rules and N4 is the whole experience. Many players come into the system in Code One before moving on to N4 for a deeper set of rules.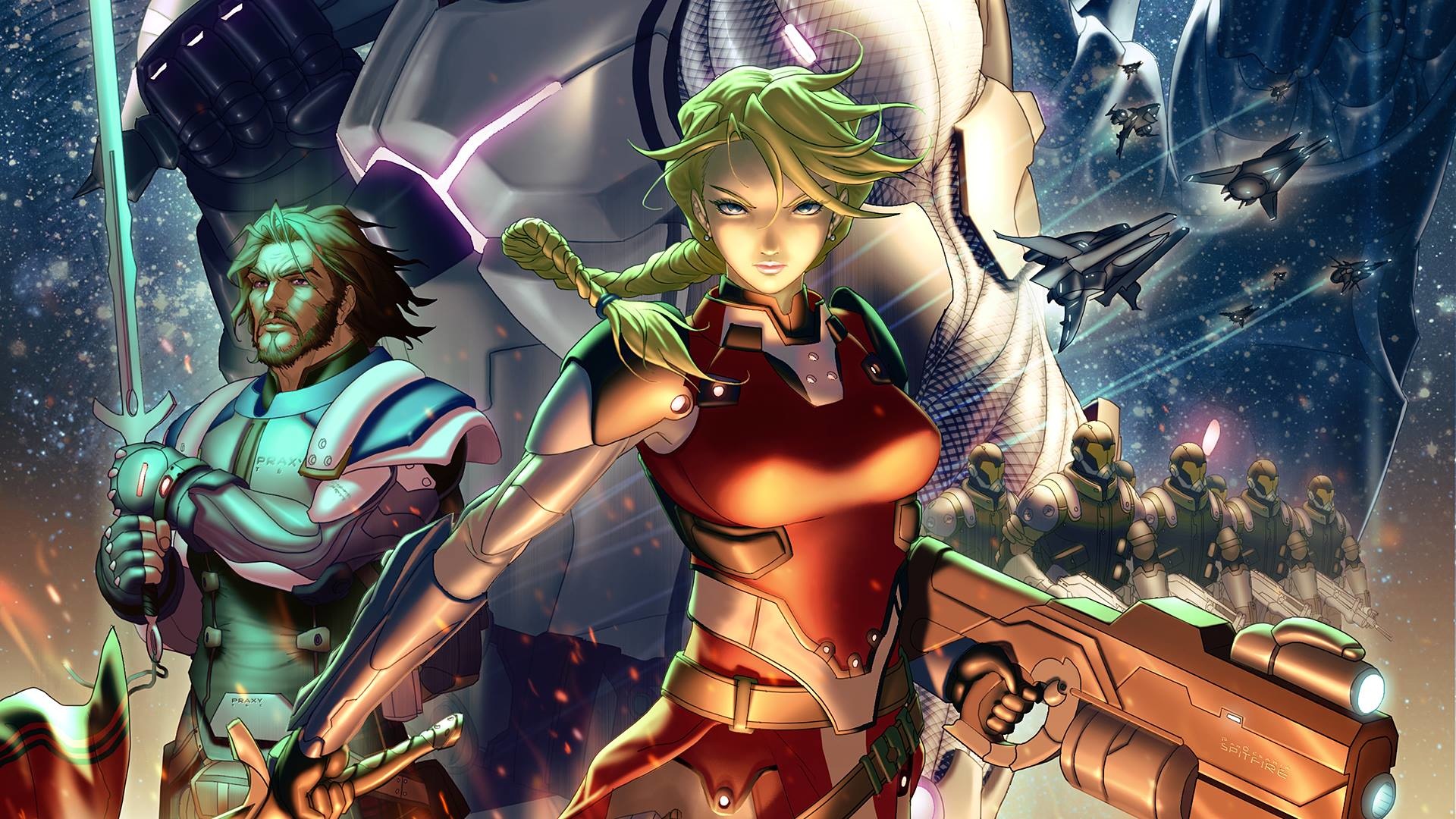 The May 2022 releases for Infinity, don't disappoint but do follow the recent trend of new miniatures mixed in with repacks of existing miniatures for Code One.
Let's start with the new…
Morat Tarlok Pack
With the re-release of the Morat Aggression Forces, it's no surprise to see them getting some more new sculpts with month.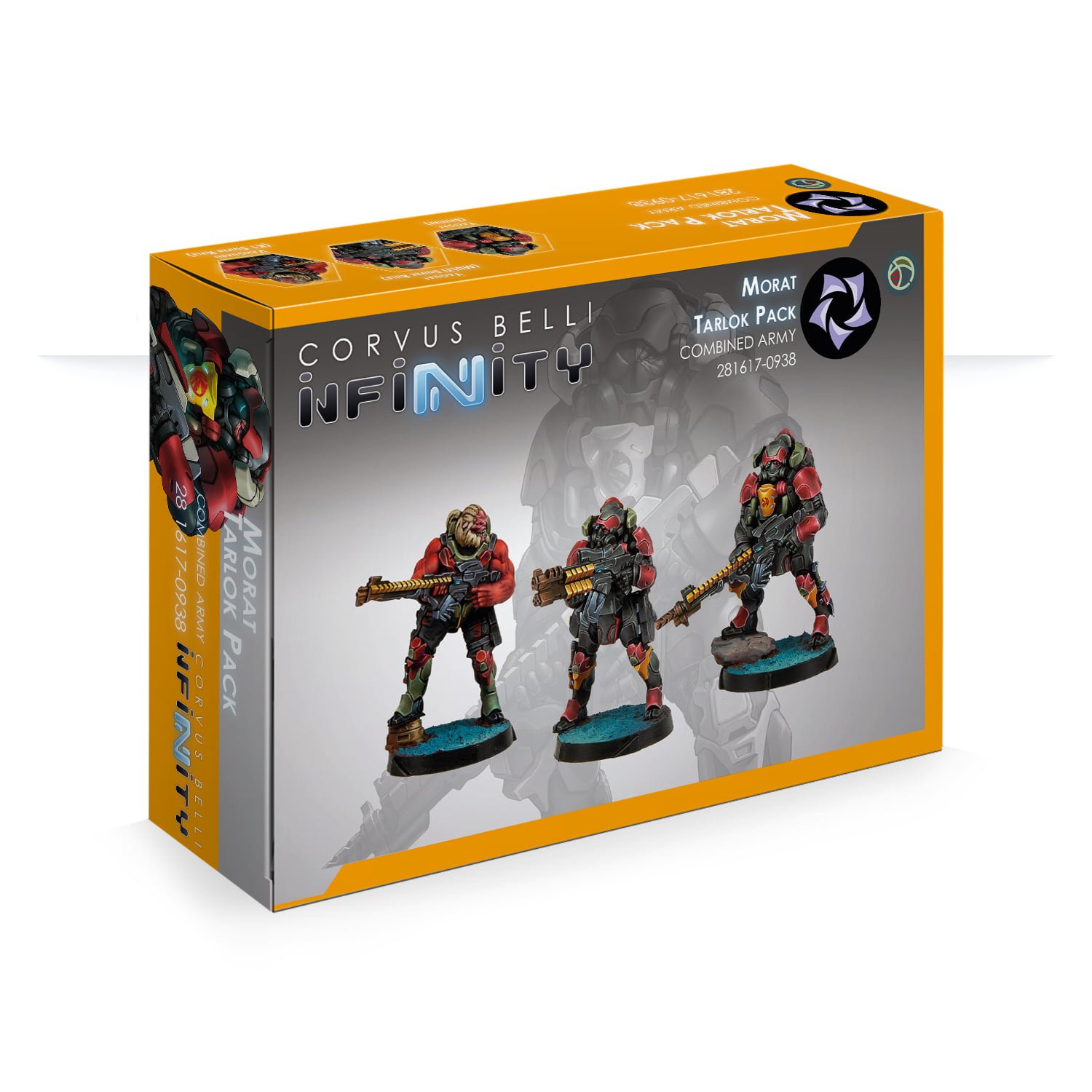 The Tarlok pack is a great edition to the new Morat army box, giving you the extra units which you need to make a Tarlok fireteam with some real teeth.
In the box you'll find a Morat Vanguard with K1 sniper, Yaogat spitfire and Yaogat multi-sniper rifle. Adding these into the combi rifle Vanguard troopers in the army box will give you a tasty Haris or Core fireteam. With the option to go defensive or offensive… depending on how nasty you're feeling.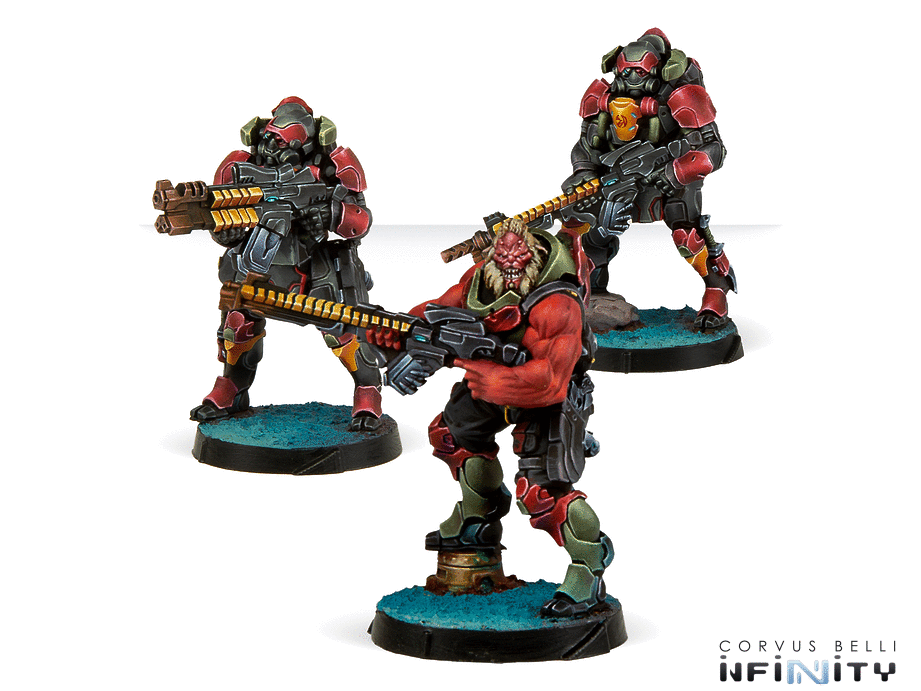 Plus, by making a Tarlok fireteam, you'll get the bonus of the Terrain (jungle) added to the troopers in the team. All for around the 100-point mark for a five-unit core team, not bad at all.
ITS season 13 tournament pack – Frozen Roads
The Infinity Tournament System continues on its 13th season with a new tournament pack.
If you're not familiar with it, ITS is the official, globally ranked tournament platform from Corvus Belli. Each year, we get a new tournament pack which contains a one-use code to register your tournament results as well as exclusive miniatures and freebies as prizes for the event. And season 13 is a doozy!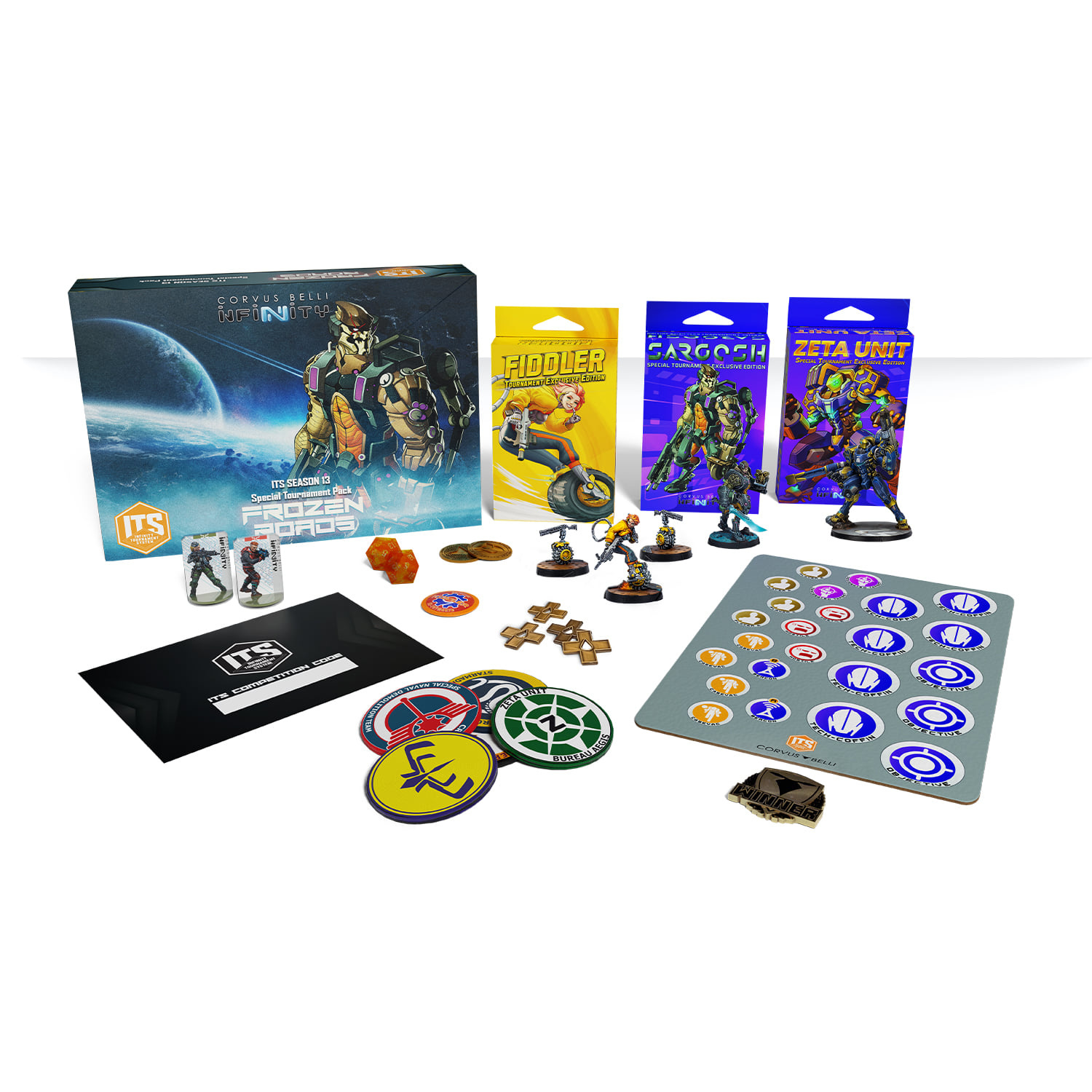 First up, there's an exclusive sculpt of the O-12 Zeta Unit TAG. This towering beast brings all of the guns to the yard including the hyper-rapid magnetic cannon and heavy riotstopper.
As a part of the growing trend, this model is also a SiOCAST thermoplastic meaning this guy won't be the heavy lump of metal you've seen before. With just as much detail and quality, SiOCAST looks like a great way ahead for the range, especially in light of rising metal costs.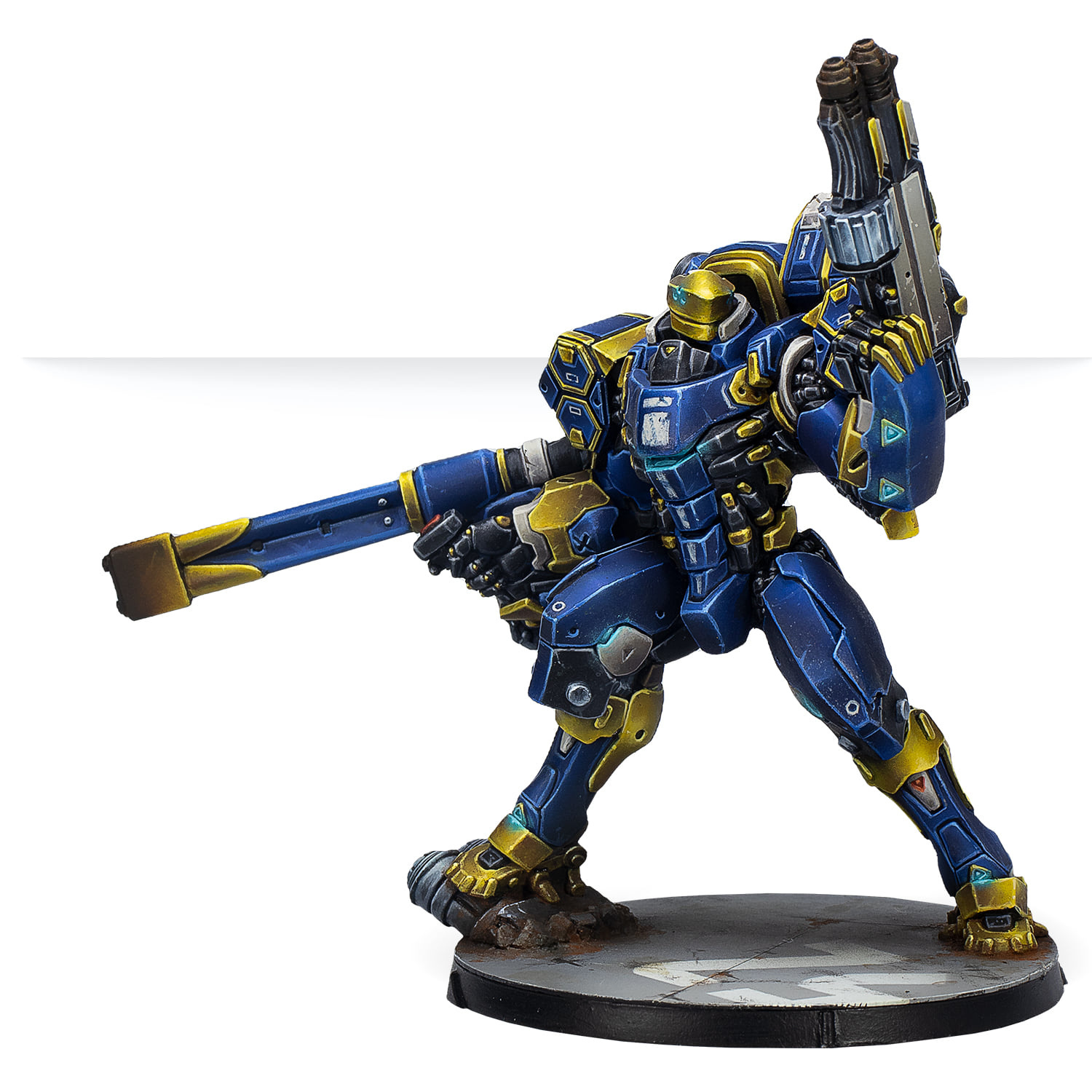 Next, we have Sargosh a Jayth cutthroat character playable in both Combined Army and the Shasvastii sectorial. He's a monster in close combat, brings a multi-spectral visor for hunting camo, specialist operative and mimetism -6 to the board, but then, at 37 points, you'd hope he was impressive! In Shasvastii, he can also form a Haris team with other Jayth, so you've got some good options to move him around with support if you want to.
As with the Zeta, Sargosh is SiOCAST thermoplastic.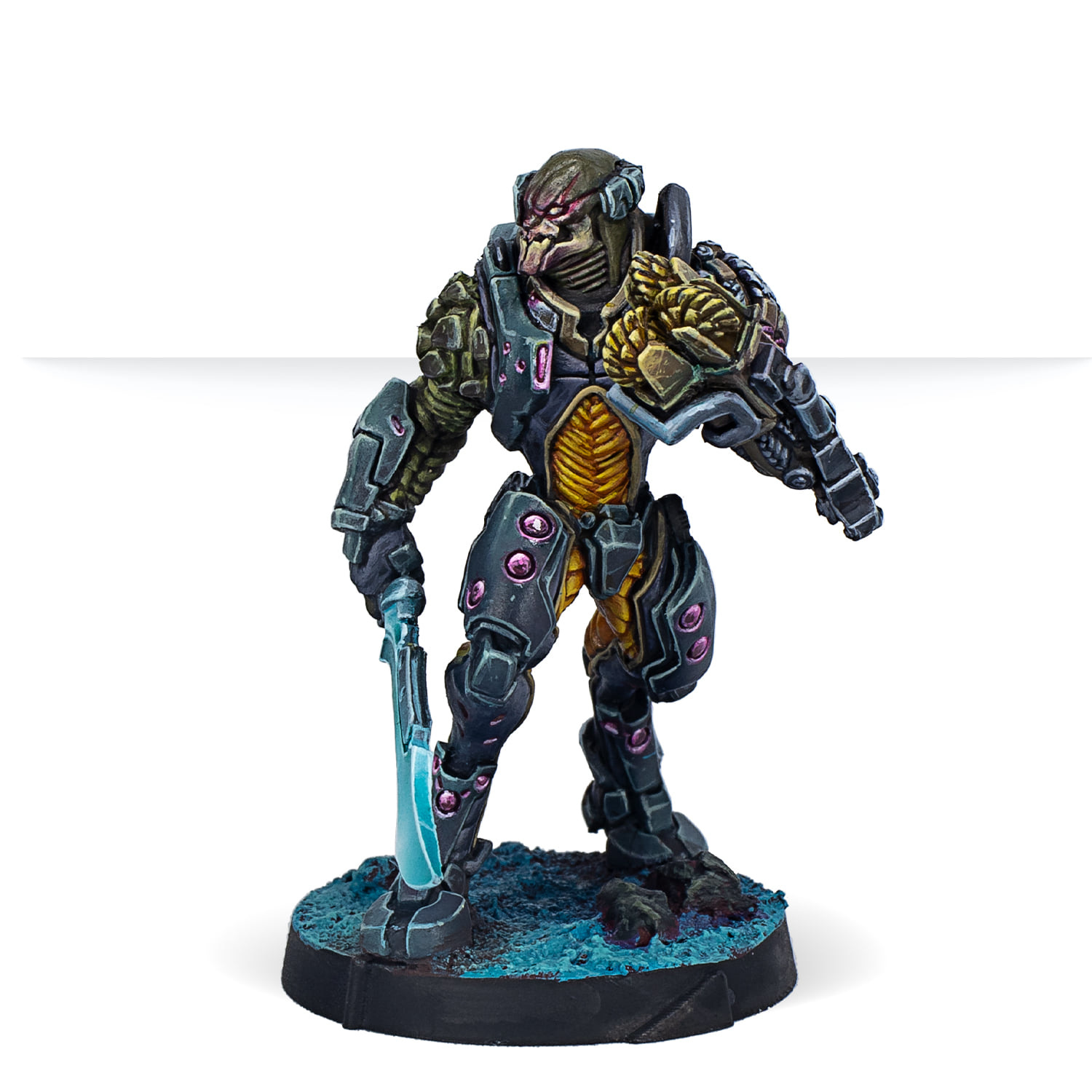 The last exclusive mini, is Fiddler, a highly unusual and interesting unit who fits into the Nomad faction and sectorial. Fiddler is a highly mobile, well-equipped engineer with drop bears (throwable mines) and the option to take Jackbots. What's a Jackbot? Well, that would be a mobile turret with a fire shooting shotgun on top, of course! What's not to love?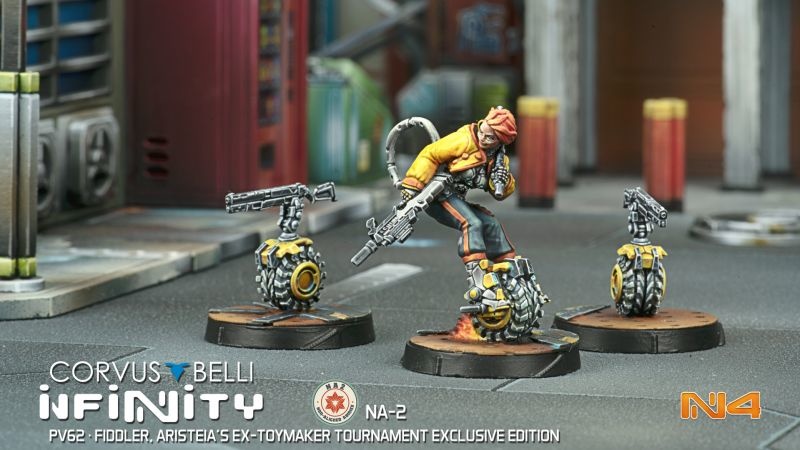 On top of all these goodies, you'll also find a laser pointer, patches, metal wound markers, dice, a medal, and stress ball D20… the box is a fall one, speaking of full boxes...
O-12 Code One collection
Ever wanted to buy all of the O-12 faction in one shot? Well, now's your chance.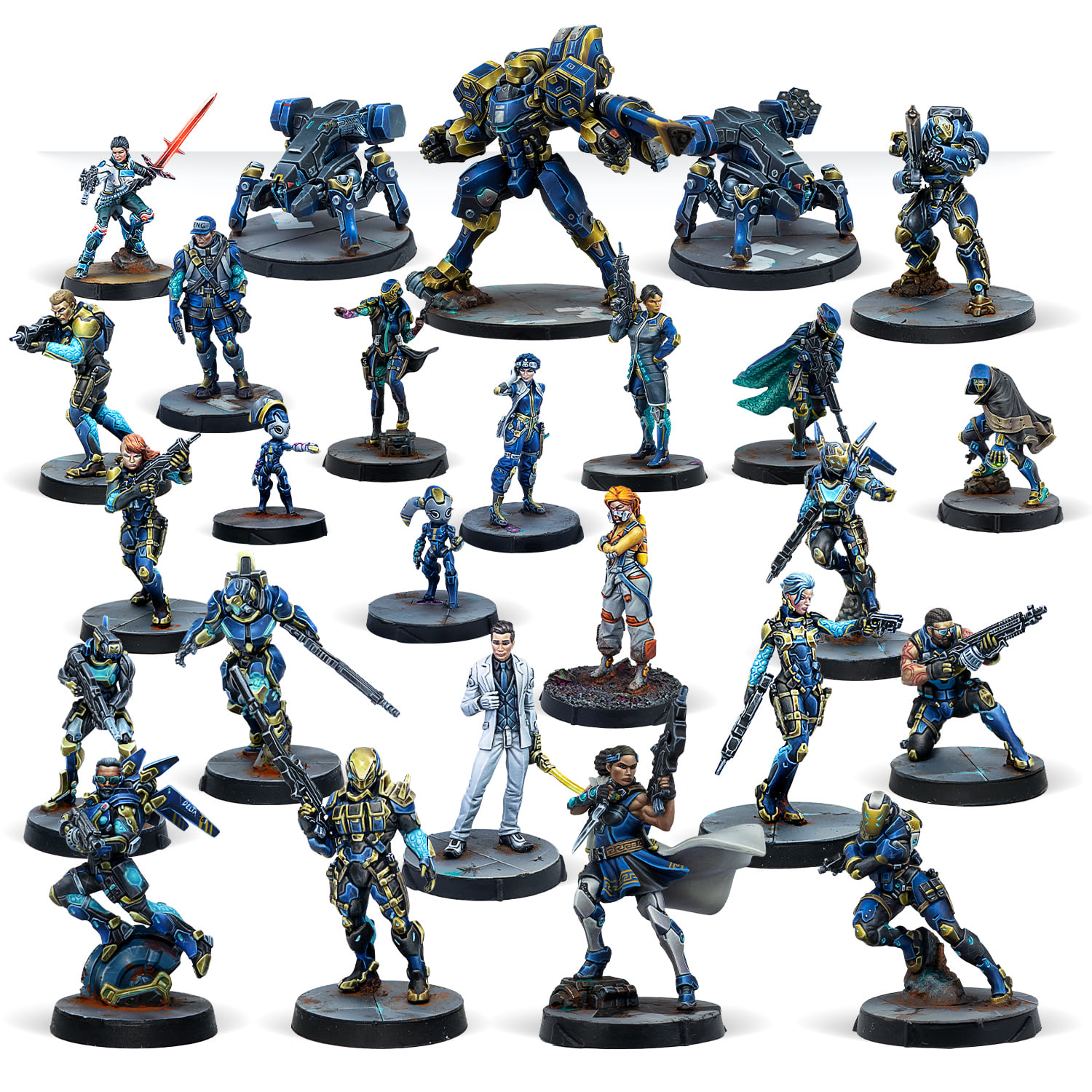 This collection includes 26 miniatures spanning the whole range of playable O-12 units in Code One, and a Code One rules booklet to get you started.
The box has everything, heavy TAGs, robots, specialists, air dropped troopers and invisible infiltrators. This box is great for both Code One and N4, giving you a huge range of different lists for you to try out.
Combined Army Code One collection
If you don't want to play the good guys, the Combined Army is here for you. This box contains everything you need to bring the good word of the EI to your enemies.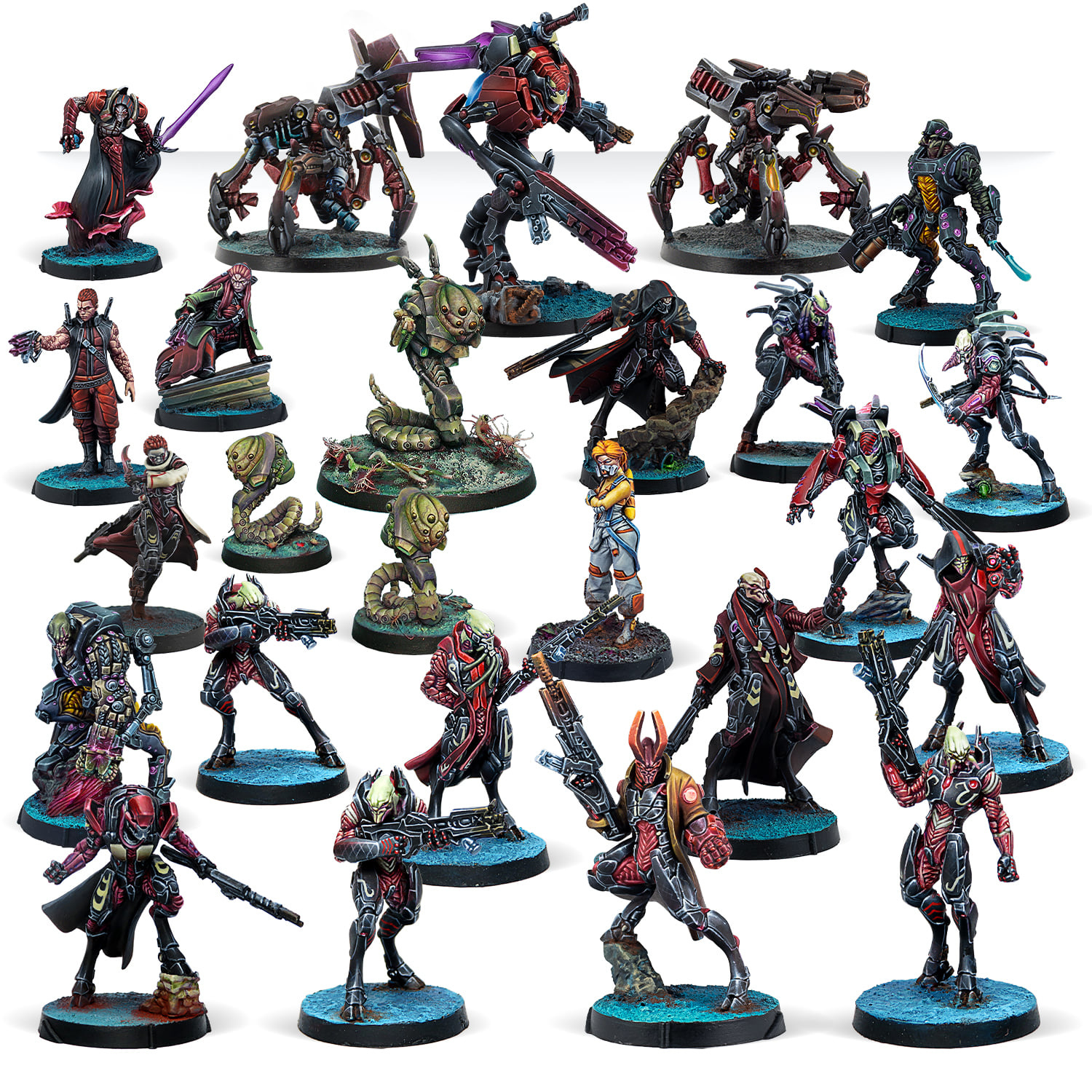 With 25 miniatures in the box, you've got a great range of options to pick from. With a focus on the Shasvastii sectorial army, this box is amazing if you want to start playing N4 and using fireteams.
All told, there are way more than 300 points of army in the box, so if you plan to take the jump to N4 and the tournament scene, this box will get you there in one go.
Nomad Booster Pack Beta
If you're a fan of the Nomad faction and new to the game, this box might be perfect for you.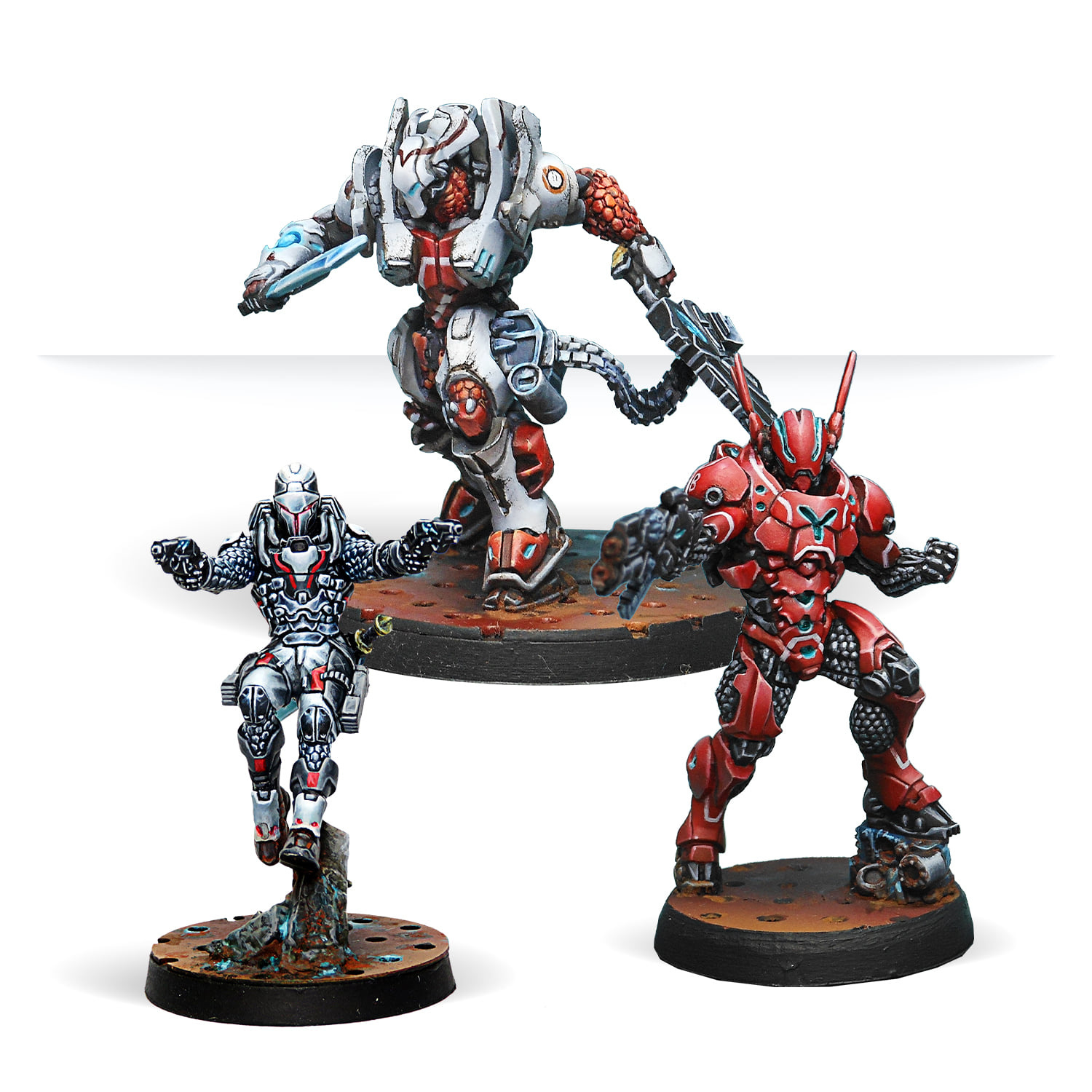 Repackaged units which were in other boxes or separate previously, you'll find a Mobile Brigada with multi rifle, Taskmaster with HMG, and Perseus the Rogue Myrmidon. These three will give your Code One lists some real punch and tactical flex.
In N4, they're great for vanilla lists, but actually are in three different sectorials. So, if you plan to play ALL of the Nomads, not a problem, but if you want just one or two sectorials, be ready to sell some of these guys on!
Ariadna Booster Pack Beta
Last, but not least, the Ariadna Booster is, as with the Nomads, a repack of previous released minis with Code One in mind.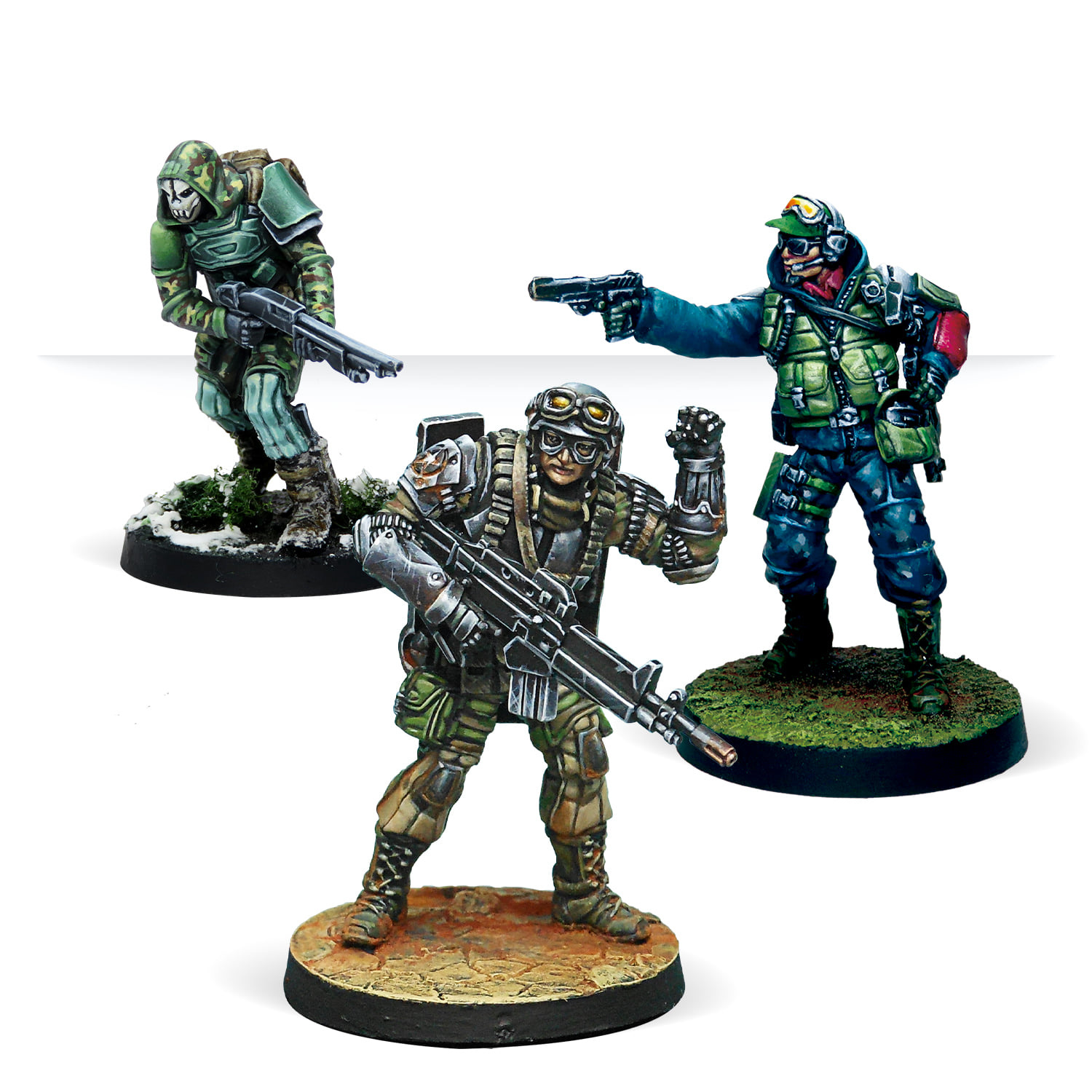 This pack is a master class in nasty. The Chasseur is camo unit with a lot of flexible and cheap options, the fact he comes with a flamethrower and mine options just makes it worse.
The Strelok also won't win you friends, bringing a boarding shotgun, specialist, or mine layer option along with camo and forward deployment. If that wasn't enough, he also has decoy, so you place two camo markers, not just one at the start of the game.
Last, the Unknown Ranger is a tough, reliable weapons platform, bringing good BS, a multi-spectral visor and armour all in one package with the bonus of being a specialist operative as well.
So, ther you have them, your May 2022 releases from Corvus Belli for Infinity N4 and Code One. You can pre-order from TableTopper right here.